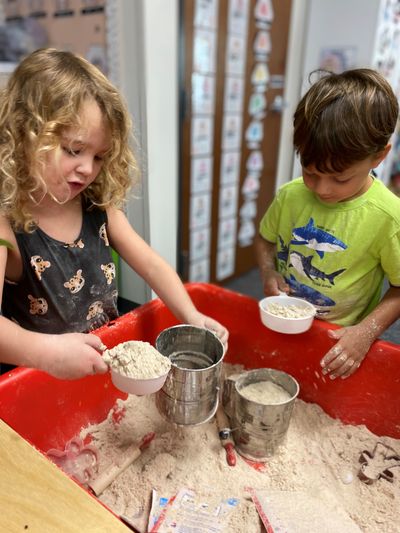 One of the core foundations to your child's learning is a strong literacy environment. In our youngest classes teachers spend ample time building vocabulary, listening skills, enjoyment of reading, opportunities to use a variety of writing utensils, and seeking out meaningful conversations to build speaking skills. The teachers in our older classes implement the Rice University's Literacy and Culture Program. Focusing on print awareness, oral expression, dramatization, and dictation children learn the importance of words and the power they carry. In our Pre-kindergarten class of fours, the children use Handwriting Without Tears (HWT) as a tool to help children form letters. HWT was designed by an occupational therapist and is used in school districts across the country. It is a proven curriculum that inspires children's interest in writing.
The school's Scope and Sequence is another tool teacher's use to guide them when planning creative experiences that are developmentally appropriate. The design of the Scope and Sequence is focused on skills or objectives that are developmental milestones for a specific age-level. Adapted to the school year, these skills and objectives are guidelines and should be applied with sensitivity to each child's developmental level. Some children will achieve these skills and objectives easily while others might need more practice. The teacher is responsible for adjusting the timely sequence of skills and objectives to fit the needs of the individual child by assessing the children each month. If a child advances through the scope and sequence at a quick pace, the teacher will select the next age-level up and individualize the curriculum. Conversely, if a child is lagging behind the teacher will use the level below and find the right period for that child.
Ancillary classes included in the school curriculum sets St. George's apart from other preschools in its variety and quality of offerings. Children who attend 5 days/week will enjoy these enrichment classes twice a week.
St. George's offers optional Soccer Shots, Mariposas Spanish and Kinder Dance extra-curricular opportunities as well. Classes are held outside of the school day on St. George's campus.